News
Bau für erste Teilfläche beginnt mit Rodungsarbeiten
Ersatzpflanzungen mit heimischen Laubbäumen
Allee-Charakter soll verstärkt werden
Der Baubeginn für die erste Teilfläche des neuen Gewerbegebietes gate.ruhr auf dem Gelände der ehemaligen Schachtanlage Auguste Victoria 3/7 steht kurz bevor. Bereits ab Montag (10.1.) müssen für den Ausbau der Nordstraße und Carl-Duisberg-Straße sowie die Anlage einer Baustraße Bäume gefällt werden. Als Ausgleich werden deutlich mehr neue heimische Laubbäume angepflanzt, um den Allee-Charakter zu verstärken.
In einem ersten Schritt entwickelt die gate.ruhr GmbH eine insgesamt 16,5 Hektar große Teilfläche nördlich und südlich der Nordstraße, die von der Carl-Duisberg-Straße zum Chemiepark Marl führt. Für die im Frühjahr beginnenden Erschließungsarbeiten wird die Firma Bernemann aus Recklinghausen ab dem 10. Januar beidseitig an der Nordstraße und an der westlichen Seite der Carl-Duisberg-Straße insgesamt 87 Einzelbäume und in Teilbereichen der Nordstraße 42 Alleebäumen fällen. "Mit Beeinträchtigungen im Straßenverkehr ist nicht zu rechnen", heißt es seitens gate.ruhr GmbH. Die Rodungsarbeiten dauern voraussichtlich zwei Wochen.
Um der Verantwortung für den Umwelt- und Klimaschutz gerecht zu werden, wird ein umfänglicher Ausgleich geschaffen: So werden in den Grünstreifen an der Carl-Duisberg-Straße und der Nordstraße 98 Einzelbäume angepflanzt. 85 neue Alleebäume werden zusätzlich die Carl-Duisberg-Straße und die Nordstraße säumen und zu einem gesunden Mikroklima im Stadtteil Hamm beitragen.
Außerdem ist für die Entwicklung der Flächen an der Nordstraße eine Rodung von rund 2,8 Hektar Waldflächen notwendig. Zum Ausgleich ist eine gleichgroße Waldfläche im Bereich der Halde am Hafen ausgewiesen. Für die geplante Rodung, die bereits im Umweltausschuss und im Stadtplanungsausschuss der Stadt Marl im Dezember sowie beim Bürgerdialog im November angekündigt wurde, liegen alle erforderlichen Genehmigungen der Behörden vor. Diese Arbeiten sollen rechtzeitig vor Beginn der Vogelschutzzeit am 1. März abgeschlossen sein.
Konkret gehört zu den Erschließungsarbeiten für den Ausbau der notwendigen Infrastruktur die Sanierung der Carl-Duisberg-Straße im Vollausbau. Dazu werden zwei Kreisverkehre im Bereich der Nordstraße und in Höhe der Straße "Auf dem Acker" den Verkehr fortan flüssig halten. In den Seitenbereichen der Carl-Duisberg-Straße entsteht beidseitig ein durchgängiger Geh- und Radweg. Außerdem werden die Nordstraße und Flurstraße (bis Hüppelswick) ausgebaut sowie Entwässerungs- und Schmutzwasserleitungen verlegt.
Auf dem Gelände der ehemaligen Schachtanlage Auguste Victoria 3/7 wollen die Stadt Marl und die RAG Montan Immobilien GmbH als Entwicklerin für Bergbauflächen innovative Unternehmen ansiedeln. Dort sollen in den nächsten Jahren bis zu 1.000 zusätzliche Arbeits- und Ausbildungsplätze entstehen, um insbesondere nachfolgenden Generationen neue Zukunftsperspektiven zu eröffnen.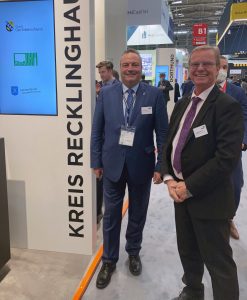 Marl presents itself at the real estate fair as a prime location
Exchange with international parties from business and urban planning
After last year's break due to Covid, the city is once again making national and international contacts this week at Europe's largest real estate fair, Expo Real. In Munich, Marl presents itself and gate.ruhr as a prime location.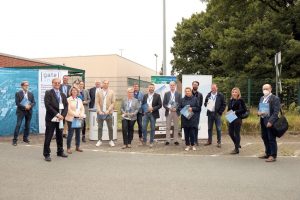 gate.ruhr is a unique opportunity: for committed companies, the economy and the people in the region. The planned location for industry and commerce has plenty of potential. Interested investors were once again able to see this for themselves during the "Investor Tour Ruhr".
"It is in the interest of the NRW government to develop the site further", Prof Dr Andreas Pinkwart, North Rhine-Westphalian Minister for Economic Affairs, declared after visiting the former coal mining pit Auguste Victoria 3/7 in Marl. Within the coming years, the business and industrial project "gate.ruhr" will be developed here with supra-regional circulation.
"AV 3/7" – which stands for Auguste Victoria 3/7 – becomes gate.ruhr: The development of the new Victoria is progressing big forward steps. The structural plan has already finalised, as well as an innovative concept to restore the area, where the Northern sector of the former coal mining site will be developed into an industrial and business location at record speed. The site is attracting a lot of interest amongst potential investors: "We get a lot of inquiries at the moment", says Marl's Lord Mayor, Werner Arndt. "Which is why we are keeping to our ambitious schedule and are beginning the development in the Northern part of the site."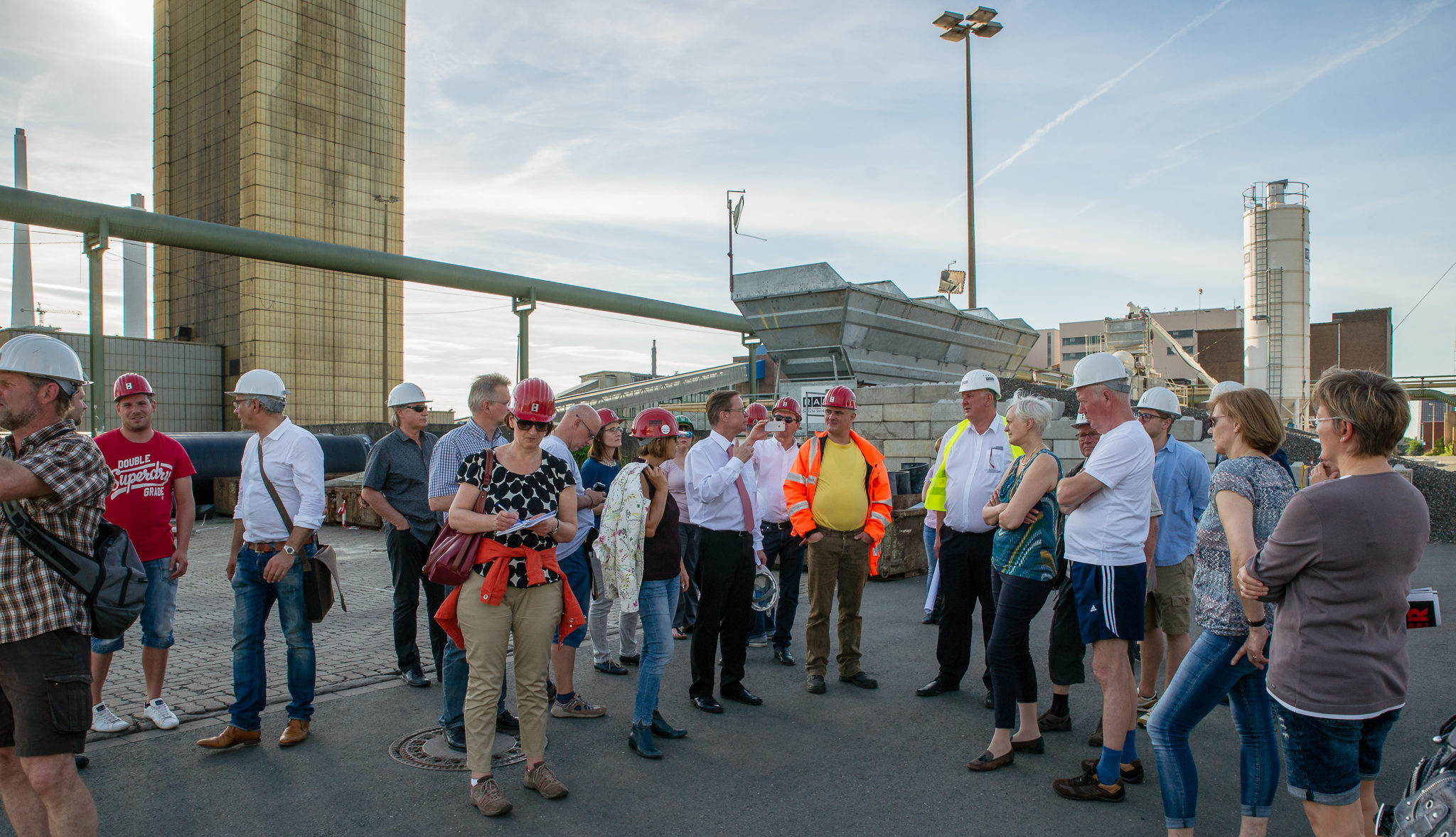 On May 17, 2017 approximately 60 visitors explored the site of the former coal mine called Auguste Victoria 3/7, under expert guidance. The excursion led the participants not only in the  steps of the past but also showed them a path to the future: Dr Manfred Gehrke, city council Marl, and Volker Duddek, RAG Montan Immobilien, gave the guests a look at the plans for the former coal mine site, where the industrial and business location called gate.ruhr is planned to be developed.
The gate.ruhr project is also innovative on a different level: To get two parts of the site in the North quickly and cost-effectively to the same level, the site developers plan to shift masses of earth.
The Ruhr Valley urgently needs space for industry and businesses in order to create more jobs. But in this densely populated area, large industrial sites are scarce or only useable after an immense effort.