"A high quality business and industrial site"
"It is in the interest of the NRW government to develop the site further", Prof Dr Andreas Pinkwart, North Rhine-Westphalian Minister for Economic Affairs, declared after visiting the former coal mining pit Auguste Victoria 3/7 in Marl. Within the coming years, the business and industrial project "gate.ruhr" will be developed here with supra-regional circulation.
With the "gate.ruhr" project, the RAG Montan Immobilien GmbH (RAG MI) and the Marl City Council plan to open doors for international businesses and European economic centres. The feasibility study, which is expected to be completed by the end of the year, already showed that there are no insurmountable obstacles in the way of revitalising the former coal mining site.
He is taking a "very positive impression" home with him, the minister said after a tour across the 90-hectare area, on invitation by the RAG MI. "This is a high quality business and industrial site", he said and called "gate.ruhr" an "important project".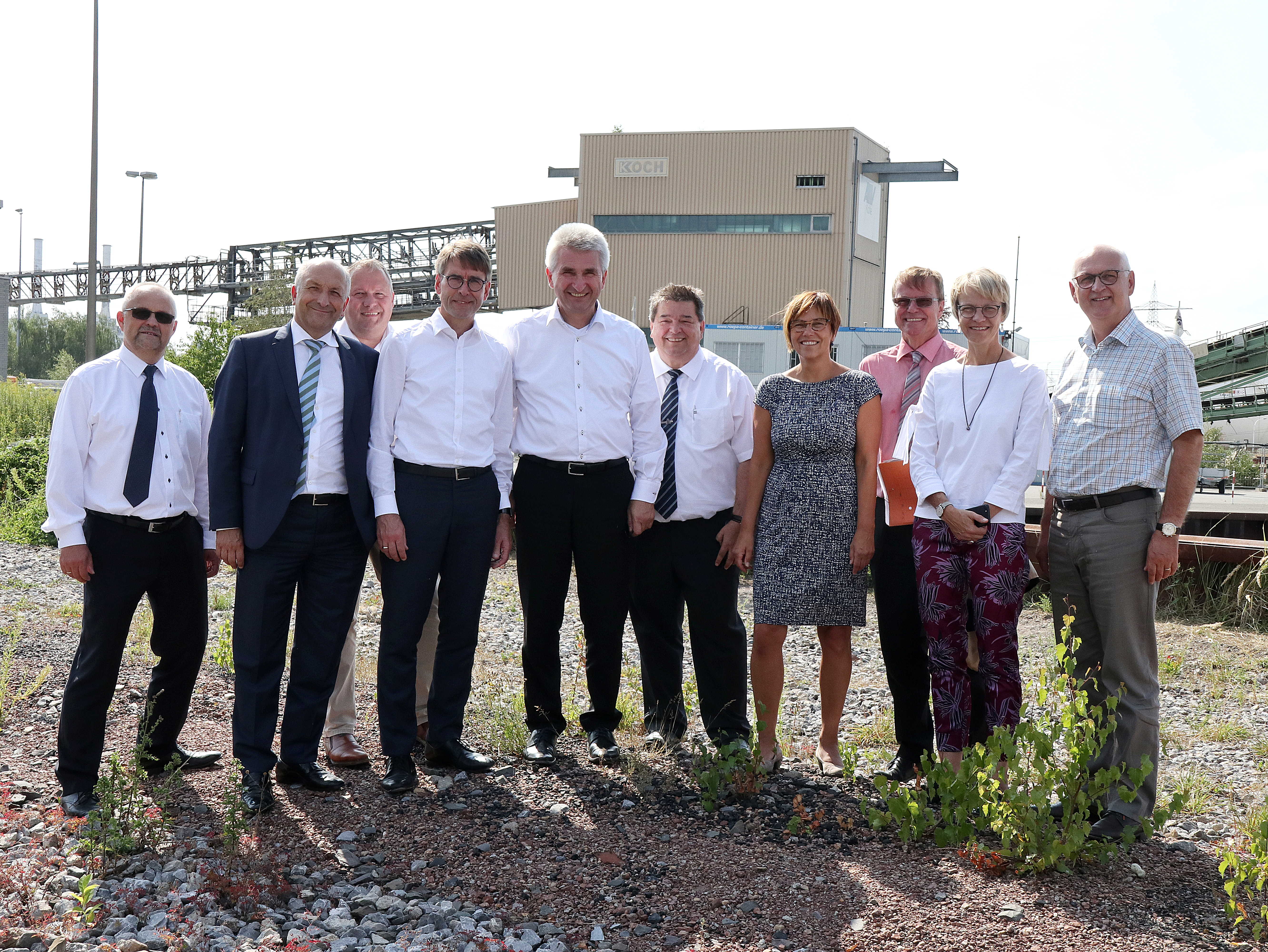 Largest connected industrial areas
Prof Dr Pinkwart: "We will decide on all further steps in the light of the feasibility study results." According to Lord Mayor Werner Arndt, the completion of the study is being finalised under high pressure. "We want to develop 'gate.ruhr' with the required dedication, to create new jobs, which are urgently needed now the coal mining era is ending in Marl and the region." With the site, Marl owns one of the largest connected industrial areas in the Ruhrvalley, said Arndt.
Quoting Markus Masuth, Chairman of the RAG MI board, the former coal mining site offers "a huge potential to present a new economic perspective to the region". Masuth: "There are already specific inquiries by interested businesses for 'gate.ruhr'". With the commitment of the property subsidiary RAG MI the RAG parent company fulfils its responsibility to Marl and the Ruhrvalley, said RAG CEO Peter Schrimpf: "The RAG stands behind 'gate.ruhr' unreservedly."
Attract new business, create up to 1,000 new jobs
Government president Dorothee Feller said she wants to support the future project "continuously, intensively and diligently".
On the former site of the coal mining pit Auguste Victoria 3/7, which ceased to operate at the end of 2015, the RAG MI and the Marl City Council want to attract new business and create up to 1,000 new jobs on-site. Until the completion of the feasibility study at the end of 2018, both partners want to present a convincing structural concept for the site's future utilisation and establish a prospective partnership co-operation. RAG MI and the Marl City Council announced the ambitious plan to start the "gate.ruhr" marketing by the turn of the year 2020/2012. The partners count on the trimodal-access. The site is perfectly accessibly by motorway (A52), has its own rail connection and a harbour in the Wesel-Datteln-Kanal – three significant factors which make "gate.ruhr" particularly attractive to businesses.