Cycle path through the forest for gate.ruhr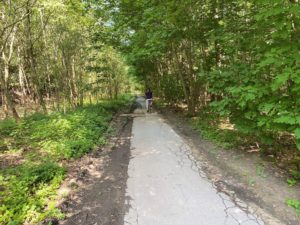 For the expansion of a cycle path through the forest to gate.ruhr, five trees have been felled in the northern area of the future route at the level of the noise barrier as part of a forestry measure.
The forest cycle path will be extended along the old railroad line to the former Auguste Victoria 3/7 mine site, is about one and a half kilometers long and leads from Dormagener Straße to the main entrance of the old mine. For the city of Marl, the extension is also an important element of "climate-friendly operational mobility management". This is because a large part of the administration will be housed on the former mine site for the duration of the town hall renovation.